Now, more than ever, these young people need to meet Christ intimately, to know His promises bring true freedom and are worth defending, no matter the cost.
The Vision —  Sacred Heart Youth Ministry invites high schoolers who have received their sacraments of initiation to live life to the full and give all to Christ. It is my goal as the Director of Youth Ministry to work alongside the families of Sacred Heart to help our teenagers keep the Faith, learn how to live it more deeply, and grow into adult members of the Catholic Church. Now, more than ever, these young people need to meet Christ intimately, to know His promises bring true freedom and are worth defending, no matter the cost.
The Team — Following the model of St John Bosco, the youth ministry team aims to engage the youth with their own joy in Christ and sincere commitment to holiness. Dependent on prayer and eager to lead from the front, the young adults who have stepped up to serve on this team are truly an answer to my prayers. I am certain the Holy Spirit has many graces in store for us this year, and can't wait to see them unfold. I hope you will all get to meet the team as our year gets rolling!
---
What's Up Monthly December 2018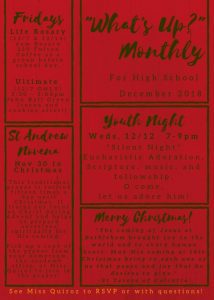 "What's Up?" is our monthly flyer and contains March for Life and Retreat information. Please consider this email an invitation for you and your high schoolers to any and all of events.
Contact Jenn Quiroz if you have questions about any of our Youth Ministry activities! 
Youth Nights
Held on Wednesdays from 7pm-9pm in the SHA Gym throughout the year, Youth Nights begin this year with an olympic competition and short reflection on the theme for the year, "What do you seek?" (John 1:38).
These nights are a great opportunity for students to learn about their Faith outside of the classroom, build Christ-centered community with their peers, and reflect on how Christ is calling them to live in their daily life.
Symphony Outings
High School Youth gather on pre-determined Saturdays to attend The Grand Rapids Symphony.  We begin the night at 6:30pm at Z's pizza (168 Louis Campau Promenade NW, Grand Rapids, MI 49503), and then walk over to the DeVos Hall for the performance. You may pick-up students at the conclusion of the evening at DeVos at 10pm.
Students should dress nicely, wear comfortable walking shoes, bring money to cover dinner and $5 for their symphony ticket. Carpooling is often available!
Ultimate Frisbee
On Fridays throughout the school year high schoolers are invited to play ultimate frisbee on the John Ball Green from 3:30 – 4:30. Students and staff alike are happy for this fun outlet at the end of the week. Competition is friendly and fierce, but no experience is necessary, as all are ready to teach the game.
Life Rosary at the Abortion Clinic
Each Friday morning, high schoolers are invited to meet the Youth Ministry Director, Jenn Quiroz along with other SH faculty at 6am to pray a rosary outside the abortion clinic (320 Fulton). After our peaceful protest, we will carpool to Tim Hortons for a quick coffee before heading to the Academy for Mass. The early hour is a sacrifice appropriate for a Friday, and this rosary is a great way for students to fight for life all year round. For other Right to Life activities in which Sacred Heart participates, visit Right to Life.
---